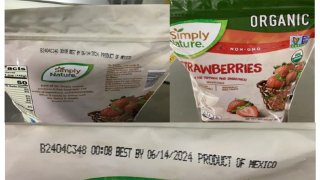 Scenic Fruit Company, whose frozen fruit is sold at Trader Joe's and some Costco stores, is recalling various frozen fruit products due to a risk of hepatitis A contamination.
The affected products include frozen organic strawberries sold under the Kirkland Signature brand at Costco locations in Alaska, Idaho, Montana, Oregon, Utah and Washington state, as well as the Trader Joe's frozen "Organic Tropical Fruit Blend" sold nationwide, according to a company announcement shared by the Food and Drug Administration on Friday.
The frozen strawberries were also sold at some Aldi stores, Seattle-based PCC Community Markets, and distributed through Vital Choice Seafood, a home delivery service. Those items — sold under the brand names Vital Choice, PCC Community Markets, Made With and Simply Nature — are also being recalled.
The Centers for Disease Control and Prevention confirmed three hepatitis A cases, with two more suspected, among people in Washington state who reported eating the frozen strawberries. Two of those patients were hospitalized, but no deaths have been reported.
Although hepatitis A has not been detected on any of the products, the FDA advises that anyone who has purchased a potentially affected product should stop consuming it and return it to their local store for a refund. Consumers with questions can contact the company at customer.service@scenicfruit.com.
A full list of the potentially affected products and more information can be found on the FDA website.
Read more at NBCNews.com.